Located in a rural area of the Wickede/Ruhr community with a magnificient view of the Ruhr valley, our guests can enjoy the silence to their recovery.
Established in 1987 with a capacity of30 patients the Ruhrtalklinik underwent an enlargement in 1994. Currently up to 90 persons can be provided for. The double ensuite rooms are state-of-the-art equipped and tailored for the needs of our handicapped guests.
We welcome guests from all over Germany. Health insurance funds and employers' liability insurance associations are the sponsors of the regimen. There are also paying patients beyond our clients of course.
Currently there are 120 employees to our guests' service. The team consists of doctors, nurses, medical therapists and the administrative personnel. Head of the Ruhrtalklinik is a doctor for psychiatry and neurology. There are also an internist and a number of ward doctors completing our team.
We provide a 24-hours service which is necessary to most of our mentally handicapped patients. Also most of them are not capable of understanding and accepting the prescripted treatments.
To ensure that our patients get all the medical treatment they need we have established a special internal service to provide for our patient's transport from and to their special therapies. The intention of the treatment is to improve their physical and mental ability. The average stay of our guests within the Ruhrtalklinik is between 3 and 6 weeks. All our patients are allowed to move within our complex or outside at their own will.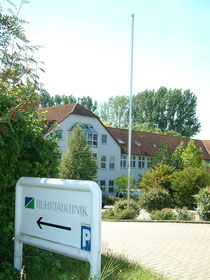 For the different types of disease the following medical treatments are offered:
medical bathes
sport- and kinesotherapy
different types of massage treatment
inhalation
occupationaltherapy
and some further more
Many of our patients are overweight. Due to their intellectual skills we developped a special diet programme which also is convenient to apply at home after their stay.
Last but not least our guests' time for leisure has to be arranged.
Nearby cities like Menden, Hamm or Arnsberg among others can be visited almost daily.
On week-ends different regional and nationwid arists present their shows in the Ruhrtalklinik.
Therefore we have an own department, which is supported by a number of civil servants.
For any further informations do not hesitate to contact us.